G17BK railway internal heating heavy oil tank wagon
G17BK railway internal heating tank car is mainly used to transport crude oil, heavy diesel fuel, lubricating poil and common viscous oil media by up loading and down unloading. It is a full-shaft axle railway tank wagon without center sill.
This wagon has no center sill. At one end of the tank are vestibule and manpower brake system. Within the heating system, a sinuous coil equipment in the tank is set to heat the media inside the tank by steam.
The body of the tank is vertical cyclinder weld structure, formed by welded standard ellipsoidal end and top and bottom groups of tank shells.
The sill-pulling apparatus consists of welded tractire sill, bolster, end sill, side sill and so on. The web of the bolster is connected with the tank body into a whole. Integral casting steel is used in the rear graft lug and center plate. The body center plate is forged.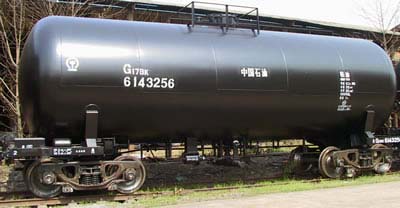 The heating device employs the simuous coil structure set within the tank, thit is ,12 lines of heating popes are vertically set around the body from the bottom. Heating pipes are fully welded structure.
The coupler and butter is of 13A up operation coupler and ST buffer.
It's equipped with air brake and hand brake.
The bogie is K2 type and brake beam is combined type.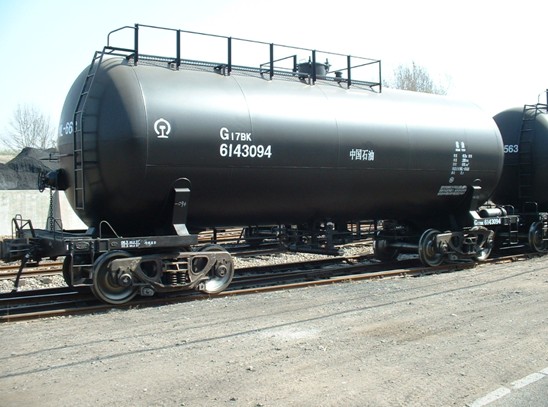 Main technical parameters
| | |
| --- | --- |
| Loading capacity(t) | |
| Tare weight(t) | |
| Coefficient of care weight(t) | |
| Track guage (m3£© | |
| Effective capacity of the tank(m3) | |
| Load per meter of track(t/m) | |
| Commercial operating speed(km/h) | |
| Min radius of curvature negotiated(m) | |
| Vehicle length(mm) | |
| Operating pressure of the tank(Mpa) | |
| Braking ratio of the whole wagon(empty) | |
| Braking ratio of the whole wagon(loaded) | |