C80B stainless steel open-top wagon
Its tare weight is light and load weight is very heavy. It's suitable to be organized into groups of 20000 ton trains on railways.
Adopting traditional open-top wagon structure bearing through sidewall and flat floor, its structure is very simple and reliable. It can be maintained conveniently.
The main plates such as side wall, end wall and floor etc, and sills are made of TCS stainless steel, which is anti-corrosive and can lengthen life of wagons.
The bottom frame is made of Q450NQRI high-strength and anti-corrosive steel. The center sill is made of hard-shaped steel.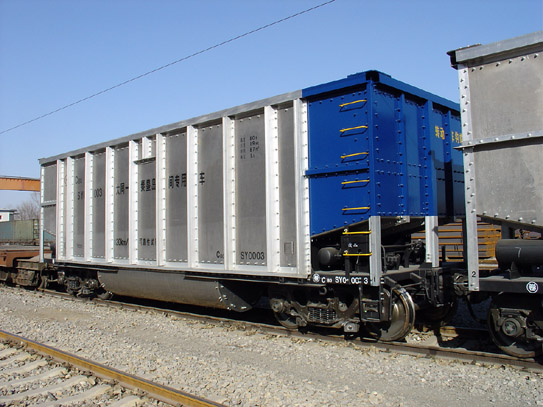 3 such wagons are organized into a wagon group. On the center of a wagon group, traction bar is adopted, which can be inter-changed with type 16 or type-17 interlocked coupler. On the end of No.2 position of the wagon group, type 17 interlocked fixed coupler is adopted, which is made of Class E steel. Type MT-2 buffer is adopted.
The bogie adopts Chinese type K6 or K5.
The arresting gear is model 120-1 brake valve, adopting KZW-A bare weight automatic brake device. The automatic regulating apparatus is ST2-250 both-way brake shoe-clearance. The brake cylinder is a rotary seak type with a dimension of 305mm*254mm. And derailment automatic brake device is adopted. Stainless-steel brake spare parts and piping system are adopted for brake use. The type of manual brake system is type NSW.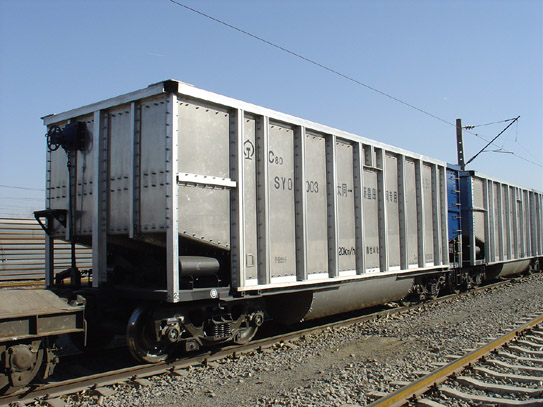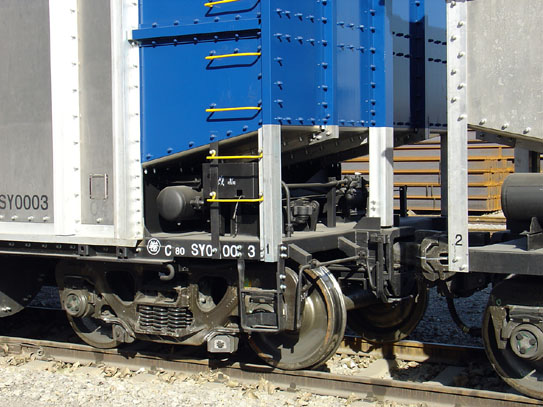 Main technical parameters
| | |
| --- | --- |
| Loading capacity(t) | 80 |
| Tare weight(t) | <20 |
| Axle load(t) | 25 |
| Volume(m3) | 84.4 |
| Coefficient of tare weight | 0.25 |
| Load per meter of track(t/m) | 8.33 |
| Commercial operation speed(km/h) | 100 |
| Minimum radius of curvature negotiable(m) | 145 |
| Urgent brake distance of heavy wagon(m) | <1400 |
| Length of vehicle(mm) | 12000 |
| Length between bogie pivot centers(mm) | 8200 |
| Maximum height of vehicle(empth wagon)(mm) | 3767 |
| Maximum width of vehicle(mm) | 3284 |
| Wagon door and its dimension | 950*756 |
| Height of the coupler center line | 880 |
| Diameter of wheels | 840 |