PU Sandwich Panel Production Line
PU Sandwich Panel Production Line[07-10-07 16:44:06]

Introduction of PU Sandwich Panel Production Line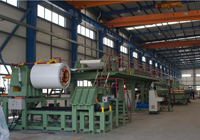 Our PU Sandwich Panel Production Line is designed by computer-assistant engineering and high technology. The PU Sandwich Panel Production Line has proven high efficiency, low maintenance and energy-saving during years of practice. The company is engaged in PU sandwich panel producing machinery development, production, sales and service for many years..
This product line can continuously produce sandwich panel with PU as its core material. The liquid state raw materials were continuously injected into the middle of two formed panels and reacting、foaming、solidifying in the double-pedrail machine, furthermore, the PU sandwich panel could be cut out automatically according to the required length for users.

Products Information of PU Sandwich Panel Production Line
CLIMA PU sandwich panel production line consist of uncoiler, steel panel transverse cutting machine, steel panel surface PVC film covering device, roll forming machine, conveyer, pre-heating room, PU liquid mixing and injection section for foaming, foaming and the PU foam maturing machine , Heating and heat insulation system, panel cutting system, electric control system.
This production line can produce both roof panel and wall panel. And as following is the main parameter:
Speed of production line: maximum speed:6m/min(frequency conversion to adjust speed)
Total length of the product line: about 80 meters
Total power of the production line: about 200kw

Two sets of uncoiler: It is passive and manual swelling, can be used to uncoil steel coil which is maximal 1300mm's wide, no more than 5 ton's weighty and steel coiler's inner diameter is about 500mm.
Three sets of roll forming machine, one is on the up platform and two are on the down platform. They make one kind of roof panel and one kind of wall panel.
One set of PU 2 component Liquid mixing and injecting section for foaming: it adopt low pressure pump. It have the temperature control system and material-level monitoring system. The tank of the material is about 500L. Foaming and the PU foam maturing machine (double belt structure) include side nylon seal blocks to make 2 kinds thickness wall panel and and 1 kind thickness of roof panel. The side nylon seal blocks will be changed according to different panel.
Heating and heat insulation system

One set of heating and heat insulation system: the mainframe machine is closed by heat insulation material. The heating system heat and fan hot air to keep the temperature 25-35℃ in the mainframe machine. The temperature could adjust according to the production process.
Cutting machine can move longitudinally along product line; Band saw of the cutting machine can move transversely, Cutting machine.
All the data are base on our 20 PU sandwich panel production line and are only for customers' reference, we can adjust the specification according to your requirements.
Just a few of them have been listed , please contact us if you want any other kinds of machines.